Content is key and Instragram reels are, and that's historically evident; another thing we have come to learn from history is that short video content is always in the lead, take the example of Vine, TikTok, Snapchat, Instagram and YouTube which finally came around with shorts. With this thread we see each platform picking a component of another that translates or alternate to short video content and with it, we also get to see the exponential growth in these platforms.
Understanding Instagram Reels
Social media has always been all about photos, and we all did it "for the 'gram" or "snapped it." Now we have Instagram as a big player in the game of short videos. Reels have quickly become one of the most popular features on the Instagram platform. In terms of reach and likes, Reels were the most successful during the July 2022 measure by Statista, accounting for 33.8 percent of content on the platform.
With over a billion active users on Instagram, small business owners have a lot of opportunities to reach new customers. A special Reels icon is now present at the bottom section of the Instagram page and clicking on this icon displays trending Reels which can be viewed by scrolling through them one by one.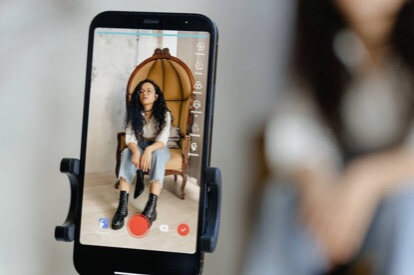 Growing Your Business With Instagram Reels
If you plan to use Reels to reach new customers, enhance your brand awareness, and grow your business, you've come to the right place! Use the tips below to get ahead.
1. Showcase Your Products and/or Services on Instagram Reels.
If you are trying to showcase your brand's offering in a highly engaging visual way then reels are perfect for that. Be it the new products or services you are introducing to your new or existing customers or be it an explanation of how to perfectly utilize your product or service, reels provide a great outlet for that. Reels will allow your customers to have a perceived feeling of touch or taste without actually being in contact with the product.
2. Share BTS Content on Instagram Reels.
The demand for authenticity and transparency in content has increased dramatically over the past few years. People relate more to personality-driven content over a highly-curated feed any day. Using Reels to showcase your brand's personality and giving customers a behind-the-scenes (BTS) look at what goes on in your business gives them a feeling of comfort, relatability or safety.
3. Share Educational Content on Instagram Reels.
Educating your customers has turned into a very effective marketing strategy. However, keeping people interested is one of the main challenges, this is where Reels come in. Rather than limiting people to a boring research paper about the benefits of your product, Reels allows you to create fresh, captivating content on the same topic. When done right, your value-driven 30 to 60-second video will capture people's interest enough to lead them to your profile, to your shop or even to check out your website, and maybe even buy your product.
4. Introducing Your Business on Instagram Reels.
As a business, you need to put a face side by side with your brand. 77 percent of people are more likely to trust and support a business with its leadership on social media, and for these Reels are a great way to introduce them to the world. Share failures you've had to overcome or even something as simple as how you start your day. This type of content will not only make people more invested in your leadership, but also in the business you run or lead.
5. Tapping Audience That Has Not Followed Your Instagram.
Reels are an excellent channel for reaching out to audiences that currently do not follow you on Instagram. With the benefit of the ad function and product tagging on the Reels, you're visible to almost everyone with interest or who has associated with similar products or services. This is significant when you aim towards both organic and paid reach on your engagement.
To Sum Up
People like creative over boring content and your customers will always get attracted to things that are understandable and relevant to their needs. By using Reels, paired with music or audio clips that are currently trending on Instagram, you have the ability not only to reach a broader customer base but oblige these customers to engage with your profile or products. This will boost your Instagram profile at absolutely no cost and will fetch you high conversion rates, traffic, and engagement.
Give a try to reels, and it just might "reel" those customers in. Reach out to 5th Brand Inc to learn more on how we can help.